Your loved ones remembered your anniversary, and a fruit hamper delivery just arrived at your house. A big basket filled with healthy deliciousness is a thoughtful present, and with your guests on the way you still have some time to find the best way to serve the fruit. Roll up your sleeves because this post is about to get creative!
Fruity Critters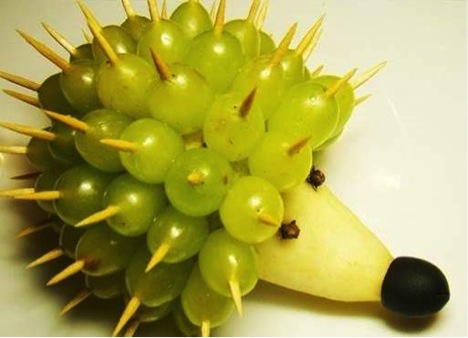 (image credits: http://www.goodhomediy.com)
This is a great way to trick your young ones to eat something healthy. A fruity hedgehog takes less time and skill than the viral Healthy McDonalds meal. All you need for your little prickly bundle of sweet is a pear, some grapes, two cloves and toothpicks. Peel the pear with your peeler, in order to get the smoothest shave, and riddle its chunkier half with grapes on toothpicks, and add the clove eyes – watch the kids fall in love with the cute animal that is actually a good, healthy meal full with vitamins. This is just one example; keep your ideas fresh as your fruits.
Served on a Stick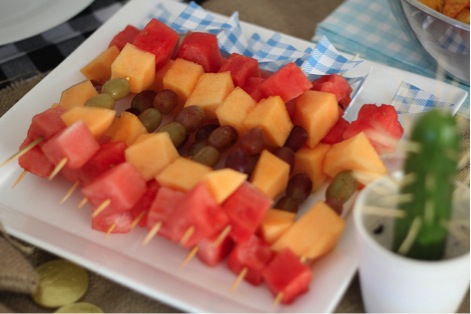 Slice and dice your fruits, and then skewer them on a wooden kebab stick. Play with colors and flavors – try to get an ombre look with berries of different shades. Fruit kebabs look classy on their own, but you can dip them in sangria for a real party trick. Plus, guests will enjoy their snack of sticky fruits AND keep their hands clean.
Adorable Shapes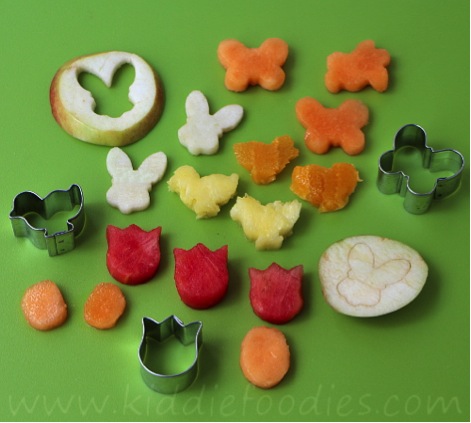 (image credits: www.kiddiefoodies.com)
Simply use cookie cutters to create adorable snacks. Most fruit is firm enough to stay put under the cutter's pressure, and soft enough for a clean shape. All you need to do is find your best cookie cutters and apply them to fruit that has been peeled and cut into thick slices.
Fruit salad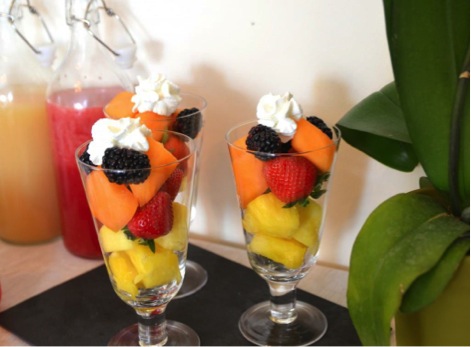 (image source: http://www.celebrations.com)
This one is classic for a reason. Everybody loves a colorful fruit salad, and if you serve it in a tall champagne glass, you can take it from comfortable to luxurious. All you need are champagne flute glasses, and a mixture of seasonal fruit, such as the ones this Sydney-based fruit delivery is best known for – all washed, peeled, and sliced. Use a julienne peeler to keep the fruit intact, not mushy, as you peel and slice it. A fruit salad is always a great choice for a dessert, and it works as a light and healthy snack that you can refrigerate for a while.
Fruit pizza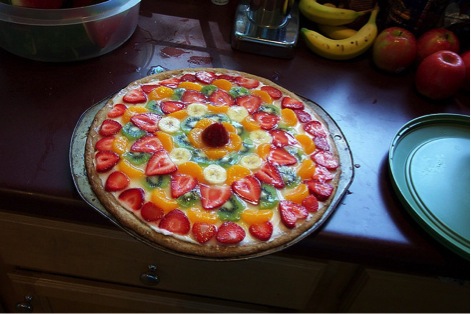 If you have basic baking skills, this one will be a piece of pie – a pizza pie. You could use pre-made sugar cookie dough, but if you have the time, handmade cookie dough always tastes better. Cover the dough with a cream cheese topping, and cover it all up with fruit. It's not really an alternative to real pizza, but it is a fantastic meal nonetheless. The same way regular pizza ham and cheese is best when shredded and blended into a smooth mix, try going through your fruit pizza toppings with a julienne peeler, and mix those up as well.
Fruits in disguise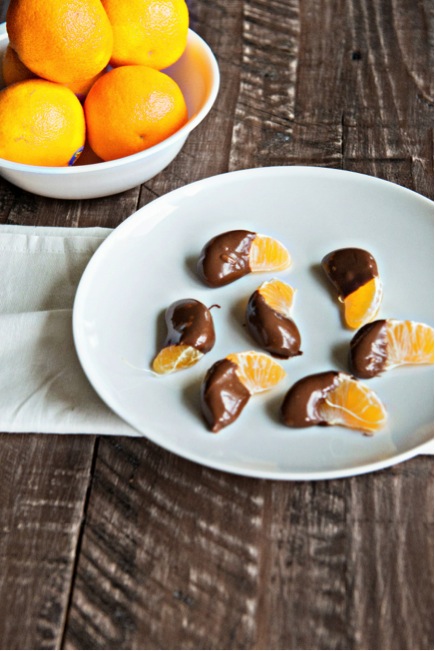 If you are dealing with picky eaters (children, most often), you can still find clever ways to include these fresh sources of vitamins into their diet. Disguise your fruits, cover them in chocolate and/or cream and see if they go untouched. Chocolate-covered strawberries are maybe not the best way to consume your fruits, but nobody will turn them down, that's for sure.