It's always annoying to peel, core and clean a pineapple. This peeler/slicer tool promise a fast and clean version of this messy job. So let's find out.
What is it made of?
It is made of 18/10 Stainless steel. So good quality strong steel. The handle is made of plastic. The most important thing is the connection between the steel and the handle. We hear often stories about handles that are broken of because of the force applied on the handle.
This one is more than strong enough to handle this force.
How does it work?
A picture says more than a thousand words, so they say. And what about four pictures? four thousand words 😉
Cut the top of the pineapple
Place the Pineapple Corer Slicer Peeler exact in the middle of the fruit
Hold it firm and push down while you are making a twisting movement
The handle can be removed by pushing on the black button, this way the Pineapple spiral slides easy of the steel
You end up with a nice pineapple spiral without skin or hard core ready for consumption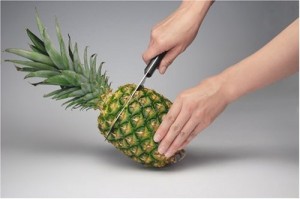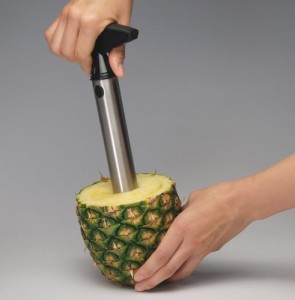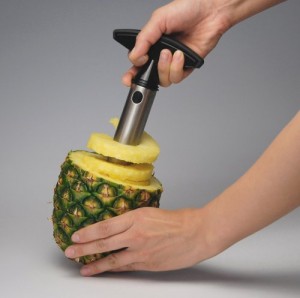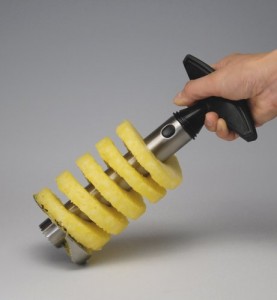 And for the Youtubers amongst us a video instruction
Is it worth buying the tool?
YES, yes, yessss. You will peel, core and clean you Pineapple ten times effortlessly faster with this tool
. And it is much cleaner than working with a knife. Because it's not an annoying any more, you will eat more Pineapple and we all know that Pineapple is delicious and healthy for you.
Good to know
It is dishwasher save
All the juice is retained with minimal waste
Ideal for tropically themed parties
Leaves the core in the shell
The diameter is approx. 3 1/4 inches
Technicality's
Product Dimensions: 9.9 x 3.7 x 3.6 inches
Item Weight: 4.6 ounces
Origin: China