Vegetable Spaghetti rosti, both raw and cooked, it is super tasty. Are you a wizard with a sharp knife to cut your cucumber, carrot and zucchini into thin slices cut, nowadays there are many tools on the market that can help do this faster and better.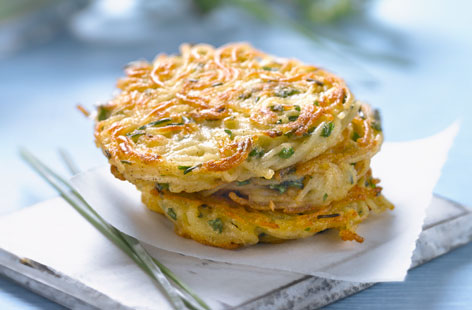 Take for example the OXO julienne peeler
, a kind of potato peeler which allows you to cut very thin strips of vegetables. The name is not entirely justified: julienne namely indicates that the vegetable strips have a size of a matchstick, tw 0.3 x 0.3 x 2-5 cm. With the peeler the strips are often longer and thinner. This handy kitchen gadget lets you make with a simple move the best julienne ever.
Vegetable rosti
Ingredients:
600 grams of potatoes
250g pumpkin, parsnips or sweet potato (pumpkin is my favorite)
2 onions
Roughly chopped 1/2 bunch cilantro
Nutritional yeast
Vegetable oil
Salt and pepper
Preparation:
Wash And peel the vegetables
Cut The onions into very thin slices
Cut The potatoes and pumpkin with julienne peeler
Mix All vegetables
Add the cilantro and mix nutritional yeast through the mixture
Add salt and pepper to taste
Fry
Get Some of the vegetable mixture and press it between your palms until you have a cookie shape
Meanwhile Heat the oil in a wok
Fry the rosti cookies (don't forget to rotate)
Drain the cookies on kitchen paper and sprinkle with the remaining coriander
You can change the vegetables and herbs to taste. However, the quantity of potatoes in the recipe is necessary, in order to bind the mixture with the starch that is naturally present.